ATTAK THE TONE BARRIER. READY YOURSELF WITH 2 OF EACH ATTAK AND AMBUSH PICKS.
Brings out 12-string harmonics on your 6-string acoustic guitar

Open chords become more compressed together with each note still clear

Adds a somewhat percussive effect to your tone

Cuts through reverb on electric guitars while evening out chord extensions

Brightens bass guitars without losing the low end
Provides the same brightening effect of Attak, but with more impact creating a more percussive sound

Great for blues on electric guitar giving each note purpose and evens out the volume of each note

Picking each note sounds extremely compressed on the attack

Gives bass a slap and pop sound while making each note sound bright and metallic

Thickens lower harmonics which gives it a heavier sound and big feel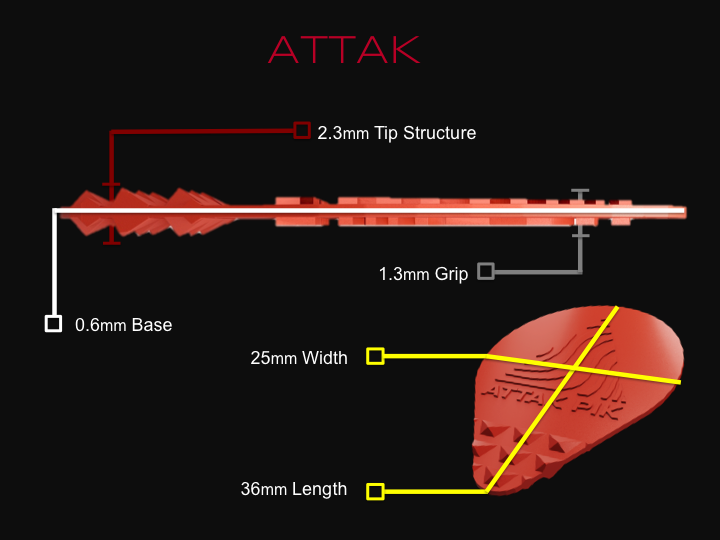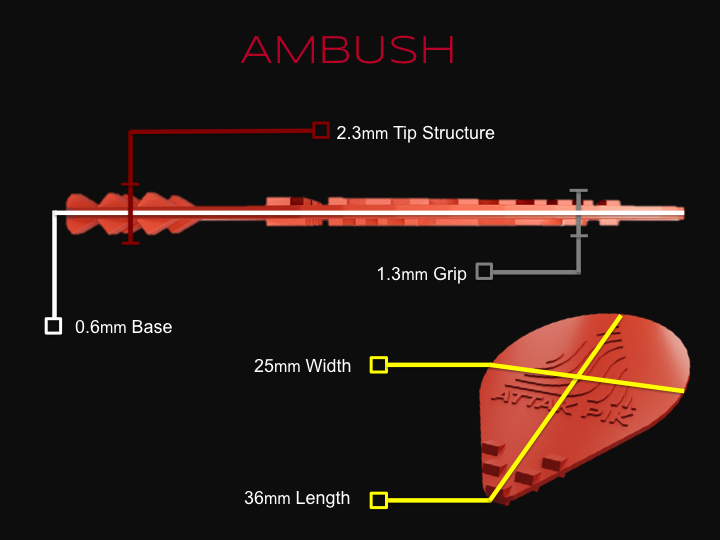 I have over 2000 picks in here, if you're doing rhythm work, or playing a strummed chord section, there's no better way to get that sound out of an acoustic with anything else I own… Honestly, for the money that these are if you don't try them, you're mad. It's brighter, it's more alive, there's this sparkle over the top.
- John Tron, Heavy Repping
Got mine in a few days ago and I'm also impressed. What I heard in the recordings on the website is exactly what I experienced in person. A little weird at first playing but you get used to it quick and it does make a difference. Makes everything played on a regular pic sound dull and boring in comparison
Got 2 of each styles ..these are great bits of kit ..be very useful in the studio for multi-tracking guitars ..definitely gives a 6 string acoustic a rich 12 ey kind of vibe ..recommended !!
"Takes you to creative places you might not normally have traveled." - Brian Goss

How long will the picks last?
The founders have been playing regularly with the same Attak and Ambush picks for the last 10 months and Blade pick for the last 5 months to test this and have not experienced any degradation in performance. A small amount of wear as you break in the pick is to be expected.
Will the picks damage my strings?
Normal playing with our picks should not lead to string breakage. Any pick that is stiff enough can break your strings if you play hard enough or in a way that will pull the strings excessively, Attak Piks included. With Attak Piks it is important to note that the raised structures on the tips of the picks are designed to give their effect without creating excessive drag that could lead to string breakage. Even more aggressive playing should not cause string breakage. Still, playing in non-standard ways that excessively pull on the strings can be a problem.
What size are these picks?

2.0mm Tip Structure
1.0mm Grip
0.60mm Base