EQUIP YOURSELF WITH ONE OF EACH OF ATTAK, AMBUSH AND BLADE PIKS.
Brings out 12-string harmonics on your 6-string acoustic guitar

Open chords become more compressed together with each note still clear

Adds a somewhat percussive effect to your tone

Cuts through reverb on electric guitars while evening out chord extensions

Brightens bass guitars without losing the low end
Provides the same brightening effect of Attak, but with more impact creating a more percussive sound

Great for blues on electric guitar giving each note purpose and evens out the volume of each note

Picking each note sounds extremely compressed on the attack

Gives bass a slap and pop sound while making each note sound bright and metallic

Thickens lower harmonics which gives it a heavier sound and big feel
Harmonically enhances midrange frequencies, which is where clarity and punch sit for guitars

Semi-flex structure allows the player to maintain their ability to sweep and tremolo pick

Pairs well with distorted and overdriven effects cutting through the mix to provide more clarity

Produces a compressed sound when picking individual notes, and can produce a "wah effect" when overdriven

Mitigates some of the muddiness of excess string resonance at lower range frequencies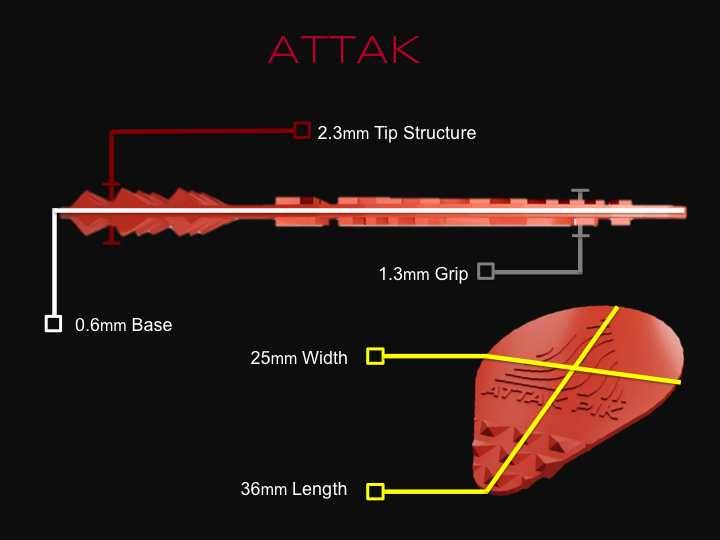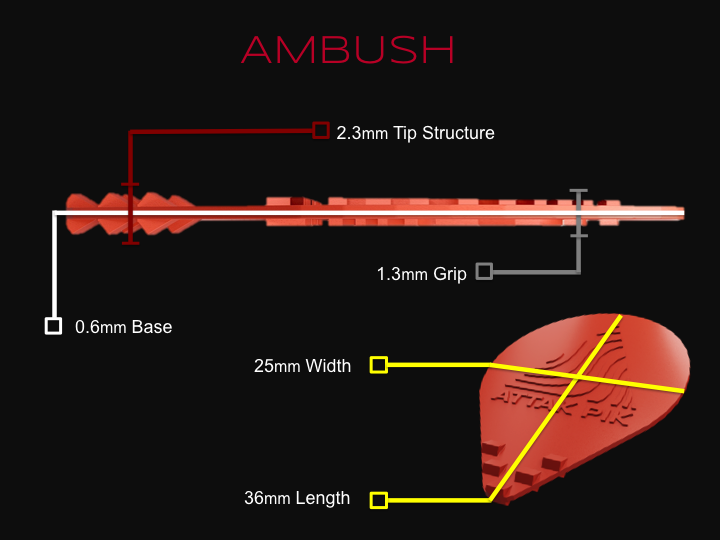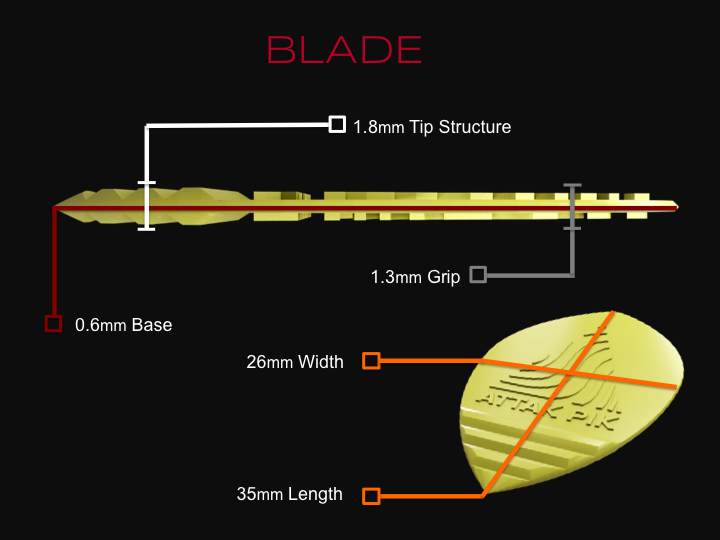 I have to say I was surprised and impressed with the tone difference these made. A definate enhancement to the overall sound, tone and volume played on an acoustic. I haven't tried them on an electric yet, I'm enjoying them too much on acoustic.
I just got my attak piks and I am a very happy man. I just started to learn Electric Funeral 2 days ago. It's a very simple song but ya know when Iommi hits the 3 GBE strings at the 12th fret three times? When I did it I couldn't for the life of me get that sound right. That was the first song I tried and I nailed that SOB, sounded just like Iommi. I am busting. Fixin to order ambush next. Thanks to all who run this wonderful company.
Blade is unlike any pick I've touched in my ten years as a guitarist. I like my tone to sound round with a fine point, which i've struggled to find in the dark tone of my les paul. I've used numerous effects pedals to achieve my desired sound but Blade places the tone directly in my hand. I am able to cut through my mixes while still retaining the full bodied sound I love. The ridges give the illusion of plucking the string without removing the fluidity and versatility needed when using a pick.
"Takes you to creative places you might not normally have traveled." - Brian Goss