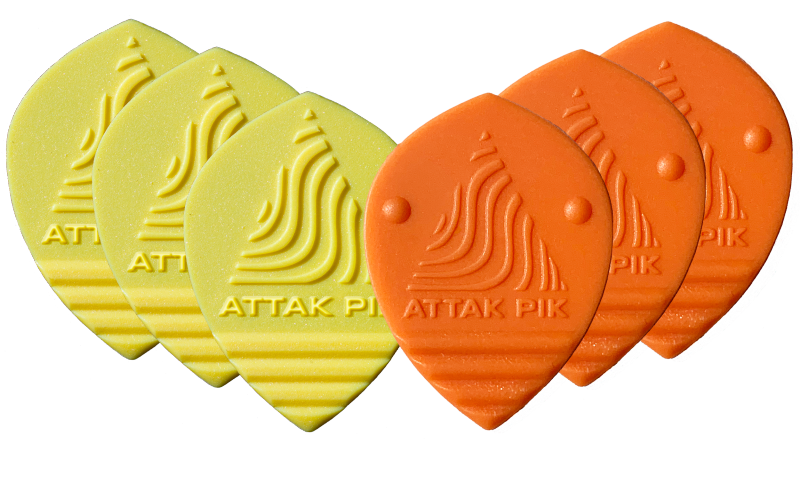 Blade and Blade II are for guitarists who want to pluck their way to paradise with a tad bit of added percussiveness. The Blades Pak is perfect for hybrid picking, both picks allow the player to speak with a certain attitude in their playing, helping emphasize any given note at any given time. Available in quantities of 6, 12, & 24.
Harmonically enhances mid-range frequencies which is where clarity and punch live on guitars. Additional benefits:

Produces a compressed sound when picking individual notes


Allows distortion and overdrive effects to cut through the mix with more clarity

Mitigates some of the muddiness of excess string resonance in the lower frequency ranges

Semi-flex structure allows players to maintain their ability to sweep and tremolo pick

Apex design at the top of the pick features a broader shoulder and point for strumming

Similar to Blade I but slightly stiffer and thicker for even more definition and a faster attack. Additional benefits:

Generates more top end with upper mids pushed forward


Increased rigidity transmits power instantly when playing harder

Produces a richer, darker sound on acoustic guitar when strumming


Lightens up muddiness in the lows and low mids


Apex design at the top of the pick features a broader shoulder and point for strumming

Weight: 25g
Material: Nylon
Blade Pick Color: Yellow
Blade II Pick Color: Orange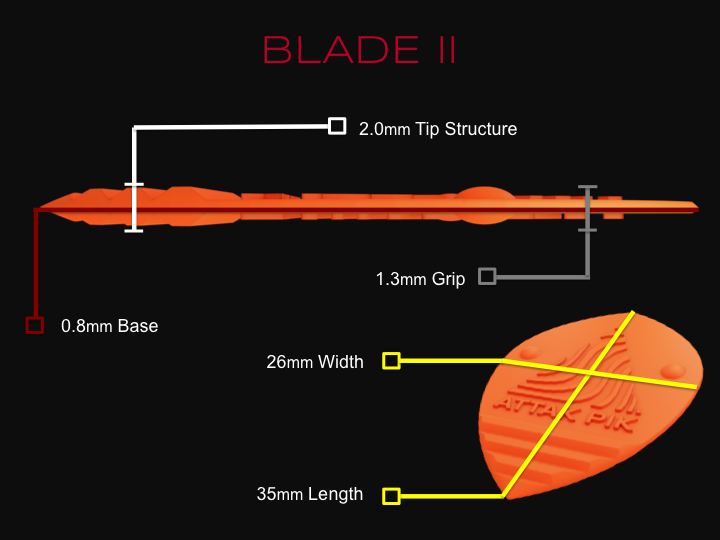 Blade is unlike any pick I've touched in my ten years as a guitarist. I like my tone to sound round with a fine point, which i've struggled to find in the dark tone of my les paul. I've used numerous effects pedals to achieve my desired sound but Blade places the tone directly in my hand. I am able to cut through my mixes while still retaining the full bodied sound I love. The ridges give the illusion of plucking the string without removing the fluidity and versatility needed when using a pick.
This model is useful particularly for guitarists playing heavy metal as is it illuminates each pitch through the wall of heavy distortion and provides a percussive impact with each stroke. The more time you spend with this pick in your hand, the more applications and possibilities will appear.
- Jacob Rozmajzl, multi-instrumentalist from Richmond Virginia